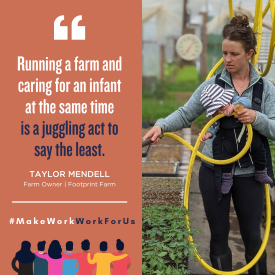 It would be much easier for Taylor Mendell and her partner to keep their Starksboro farm running if they had access to child care for their 10-month-old son Theo.

"My job on the farm is not really replaceable in a lot of ways because in addition to the field work, I'm the HR manager, bookkeeper, and do all of our marketing. Running a farm and caring for an infant at the same time is a juggling act to say the least," Taylor said.

Taylor loves providing sustainable, local food for her community. She loves engaging with community members and teaching new farmers. She feels a deep sense of responsibility to her employees and to her customers and that has only intensified during COVID.

"We're so busy trying to keep our business running during COVID. We've needed to constantly adapt to keep up with heightened food safety measures," Taylor explained.

Taylor has tried looking into child care options for Theo but hasn't found anything that would work for her family. "Child care centers are so inundated with requests, especially for infants. I often don't even get calls back. It's just crickets," Taylor said.

Even if she could find a spot, Taylor said they may not be able to afford it. "We're pretty rural, so after adding driving time to childcare rates, it's cheaper for me not to work. Unfortunately I feel that hurts the quality of our business," Taylor said.

Taylor said she feels for child care providers, who like farm workers, often make low wages for hard work with heightened personal risks during COVID. Both of them are also providing essential services for their communities: teaching young children and growing food.

"The truth of the matter is that without child care options I can't be there for my partner, my customers, or my employees in the way that I'd like to be. We need child care so that our business can thrive, so that we can thrive, and so that our employees can thrive. I even think we need child care for our child to thrive!" Taylor said.