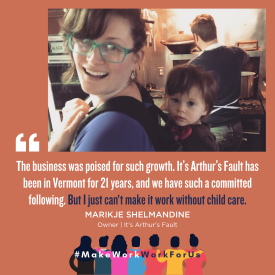 Marikje Shelmandine took over her father's beloved sauce and marinade business, "It's Arthur's Fault," after he passed away suddenly in May 2018. 
"My dad was this gregarious personality who everyone loved and he was a genius with sauces," Marikje said. "But he wasn't just my business partner, he was our child care." 
With no child care, Marikje strapped her infant in a baby carrier and tried to keep up with producing and  selling "It's Arthur's Fault" products. But it wasn't exactly practical or safe to cook boiling sauces and package products in her kitchen with a baby in tow. 
Marikje was cobbling together care and keeping the business afloat. Then she became pregnant with her second child, then the pandemic hit and then the child care center that she had finally found a spot in for her older child closed its doors -- permanently. 
"I had plans to go back to work after Artie was born. I was going to take a six week to three month maternity leave. But when child care fell through my business came to a complete standstill," Marikje said.
By August of 2020, Marikje felt like she had no choice other than to put the business aside. "It's so sad because the business was poised for such growth. 'It's Arthur's Fault' has been in Vermont for 21 years and we have such a committed following. But I just can't make it work without child care," Marikje said. 
Marikje's son Artie is now 16 months old. Her daughter Katherine is 4-and-a-half and starting preschool (but only three days a week).  She wants to get the business back up and running but she doesn't think she will be able to do it at the same level as before until Artie starts kindergarten. 
"What I want to say is that if Vermont wants this business back, child care is the barrier," Marikje said.
Marikje knows that stepping out of the workforce not only has immediate economic consequences for her family. Research shows time out of the workforce also has long-term impacts on the economic stability of women and their families. For example, a woman earning Vermont's median income of $56,990 would lose out on $610,050 over her lifetime if she had a child at age 35 and remained out of the workforce until the child was eligible to enroll in kindergarten.
When women can't succeed in the workforce, it doesn't just hurt them and their families, it hurts Vermont's economy now and in the future.